I've been thinking about starting to do recipes for Meatless Monday for a while, but am just now getting around to it. I'm actually a big fan of meatless meals, and I think eating them once a week is a good way to ease into it.
This is one of my favorite pizzas, it's so good and you don't miss the meat at all! Because it's a pizza it was difficult to measure out the ingredients that I included and list exact quantities.
So, I'm just going to list out the ingredients and you can use your discretion and personal taste as to how much of each to include.
White Pizza Ingredients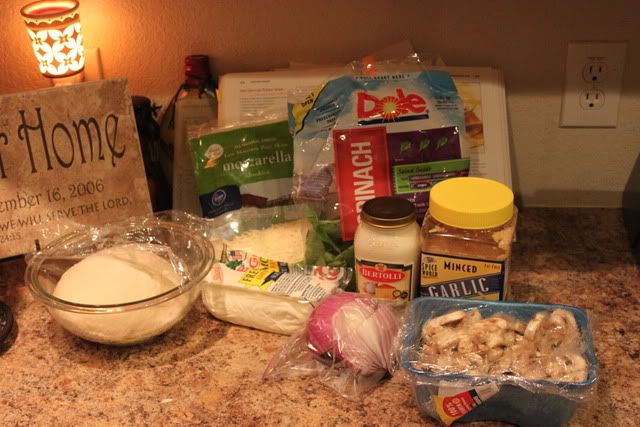 1 pizza crust
1/2 cup or so of Alfredo sauce
1 tsp chopped garlic
fresh spinach
very thinly sliced red onion
sliced mushrooms
fresh mozzarella cheese, sliced
grated mozzarella cheese
On your pizza crust pour Alfredo sauce, and chopped garlic. Stir to combine, and spread evenly over pizza crust.
On Alfredo topped pizza crust layer the thin slices of fresh mozzarella,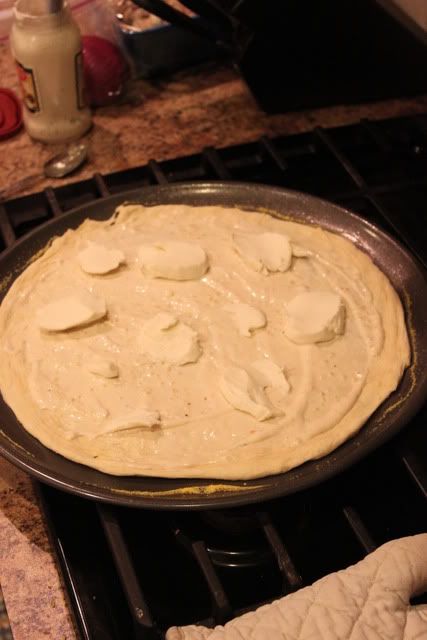 a few handfuls of fresh spinach,
the sliced mushrooms,
and the thinly sliced red onion.
Sprinkle about a cup of shredded mozzarella cheese on top.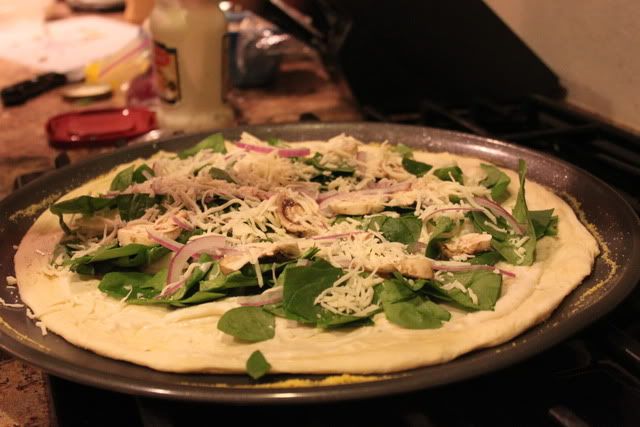 and bake according to your crust's directions.
Sometimes I toss a little fresh basil, fresh ground black pepper, or parmesan cheese on top once the white pizza comes out of the oven.
I hope you enjoy! Let me know if you try this out!
Jennifer
P.S. Today's pictures were all taken by my wonderful husband. Despite my requests to not include me in the pictures, several similar to this one:
appeared on the camera. A prime example of why I requests only pictures of the food! ;)