Oh, who are we kidding? These are more like toys for us. ;)
Yesterday two big boxes arrived at our house within an hour of each other. I needed to run errands and go grocery shopping, but I was so excited that they were coming that I put off leaving the house.
Because the two big boxes contain the first big purchases we've made for the baby! :)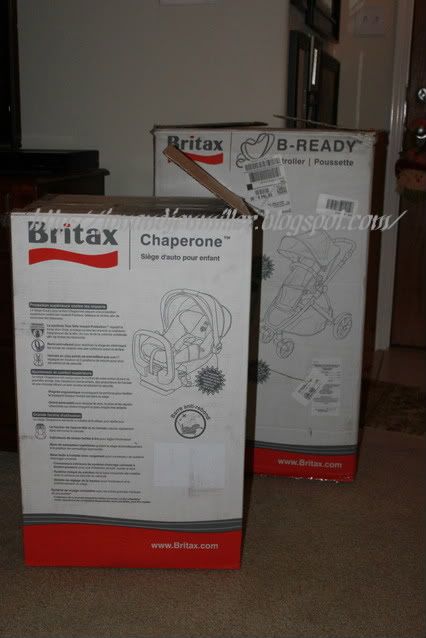 A Britax B-Ready stroller and Britax Chaperone infant car seat in Cowmooflage!
When I started looking at strollers I was in LOVE with the Baby Jogger City Select. If you're not familiar with this stroller, it's pretty stinkin' awesome and can be configured 16 different ways including adding a second seat for a second baby. We decided that since ideally we would like to have more children in the future if we're able to, (and since my Reproductive Endocrinologist told us at my very first appointment with him that if we wanted to have more than one child we would need to start thinking about that soon after having the first), that having a stroller that wound convert to a double stroller, might actually be something that could save us a little money in the long run.
We went to Buy Buy Baby to see the City Select in the flesh, (metal and canvas?), and next to it was the Britax B-Ready. I spent about 20 minutes playing with both of them--folding them up, taking off the seats and moving them around, checking out the attachments, and wheeling them around the stroller section. For me, the B-Ready was actually easier to figure out how to work everything, but I hadn't really even heard about it before I saw it in the store, so I went home to do some research, (surprise, surprise).
I watched tons of videos, read reviews, looked at opinions on baby product message boards, and came to the conclusion that the City Select and B-Ready were both great strollers, and it really came down to personal preference and which one you liked better.
Not exactly what I was hoping to hear. I wanted there to be an overwhelming response that one was significantly better than the other, but that just didn't happen. Because they're both considered to be such great strollers, I just decided to not think about it for a few months.
That's right, the avoidance tactic. ;)
Then I read about the
Britax Free Ride event
where if you bought the Britax B-Ready from September 15-October 15, you got a car seat, second seat, or bassinet for free. The idea of saving a couple hundred bucks was definitely appealing to me! But I wanted to make 100% that our decision wasn't just being swayed by the thought of saving money, and that we really did love the Britax stroller.
So back to Buy Buy Baby we went to try out strollers again! We ended up deciding that we really were just a tad bit partial to the Britax stroller, (although if I were having twins, I think I would have gone with the City Select). And decided we would make our purchase as soon as the Free Ride Event started.
Last Thursday we ordered the stroller and car seat from Amazon because it was about $100 cheaper than the suggested retail price and we got free shipping. I did the math and by buying during this promo event at a reduced price with no tax and free shipping we saved about $390 from the list price of the two! Hooray for saving, (LOTS of), money!!
But enough of the boring details, let's get to some pictures!
Like I mentioned above the car seat and stroller came in two big boxes. The car seat literally came out of the box completely assembled and ready to go.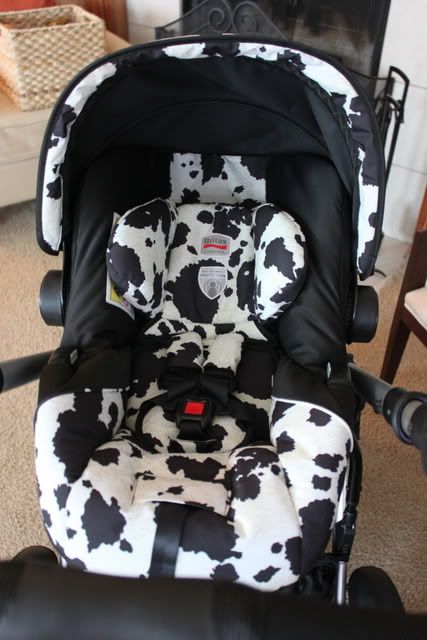 The cow print just cracks me up.
The stroller on the other hand was a pile of parts and wheels...
It looked a little daunting at first, but I honestly think it took me about 5 minutes to put it all together--SUPER easy!
Once assembled this is the frame with no seats attached:
Then you can just snap in the car seat or seat that came with the stroller facing either forwards or back facing the person pushing the stroller.
Example here's the car seat facing fowards: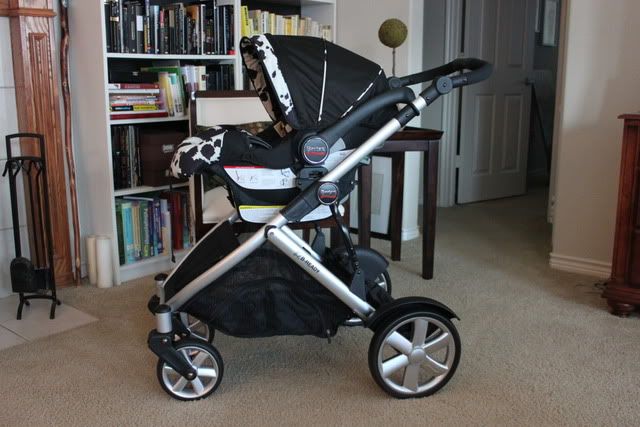 and back:
And the stroller's seat facing forwards: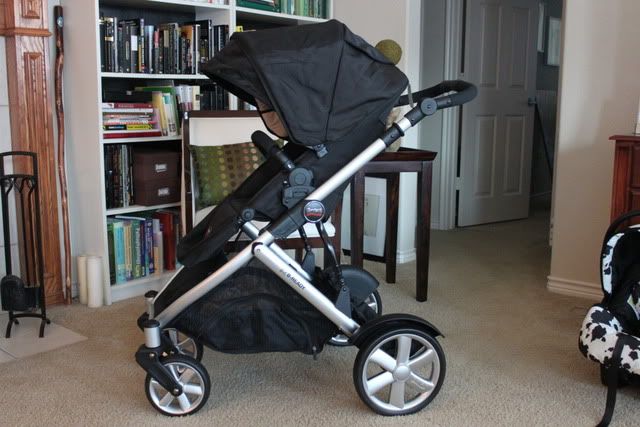 and back:
The stroller can actually be configured 14 different ways if you have a second seat, bassinet, and second car seat, (all sold separately of course), but we don't really need all of those things since we only have one bambino on the way. I would like to have the bassinet though, it's pretty sweet.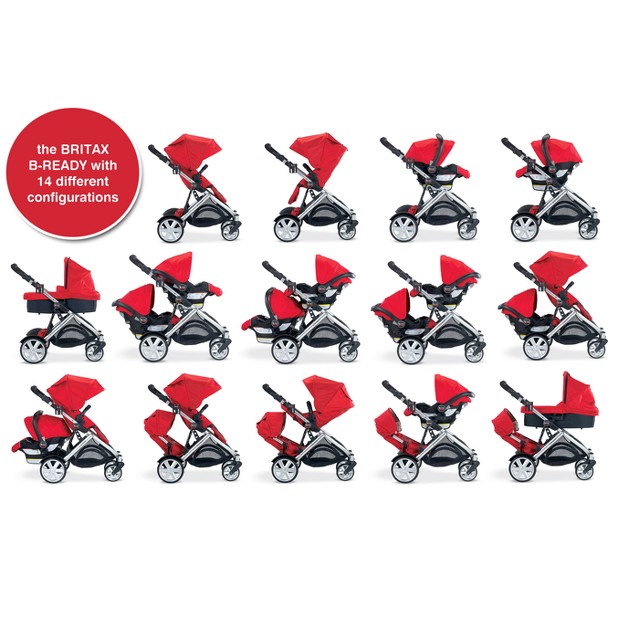 For right now we're extremely happy with the stroller and it's construction and versatility, but it will be about 6 months until I can give an honest review of it and it's functioning with baby. In the mean time it's kind of fun to play with/look at. ;)
Oh, and since you made it through all of my blabbering about a stroller and car seat, here's a belly picture for you. I cropped my head out for the picture because I have no makeup on and my hair's not done today, so I look like a hot mess.
This was taken today, so 18 weeks and 1 day. Still no cute little round basketball belly, but it is getting bigger!
Jennifer
P.S. Sorry about the giant pictures once again! I upload all my pictures to photobucket and then link them to here. I resize them to make them smaller, but for some reason sometimes it takes a few hours for them to change size. I usually try to write my posts ahead of time and schedule them to post later and it resolves this issue, but I accidentally hit the wrong button today and published it immediately, hence the super-sized pictures until photobucket/blogger work it out in a few hours and they appear the correct sizes. Until then I'll just be incredibly frustrated by it, and feel sorry for those of you who have to look at way too large pictures! ;)