As of today, I am 21 weeks pregnant with our precious bambino.
I cannot believe it! It seems like the first 6-8 weeks after we found out DRAGGED by, but they've gotten progressively quicker since then. I'm not even sure where the last few weeks went! I simultaneously feel excited that we're only 19 weeks or so away from meeting the bambino, and a little nervous because I feel like we still have SO much to do/buy!
We have started working through that list though, as you'll read below.
Two weeks ago we had our ultrasound to find out the baby's sex, and...
This was the first shot we got when my doctor turned on the ultrasound machine:
pretty clearly a boy! With that kind of shot we would have found out the baby's sex whether we wanted to or not! ;) *I apologize if you've already seen this on Facebook, I've been a little bit of a blog slacker and am trying to catch up, I think the rest of the pictures in this post will be new though.*
We're very excited to be having a boy, (we would have been excited it it was a girl too, but I think the husband is a tad more excited about having a son). ;) On Friday night he posted a picture similar to this one on his Facebook:
Next year's opening day outfit for our son!
I think it's cute how excited husband is about everything.
After our appointment we stopped by Target to pick up a few things for the baby since we could finally buy gender specific clothes and such! Even though we actually already have quite a stash of baby clothes...
Call it cheap therapy, or just being absolutely crazy, but for the past couple of years every time I was having a rough day or was incredibly frustrated with the lack of progress with our fertility treatments, I would stop by the baby section at Target and check out the clearance racks for anything good. It may seem stupidly optimistic, (or again flat out crazy), but I just felt like it kept me hopeful that one of these days I would have a baby to wear the cute little things.
I bought boy and girl clothes, and we actually have about the same amount of both. I accumulated some pretty cute stuff and for really cheap prices! I'm excited that in about 4 1/2 months we'll finally get to see the little bambino in some of them!
Here are some of our favorites, but we have lots more.
A few sets of baseball pjs. Noticing a trend here? ;)
And two of our favorite shirts.
We also got our first baby present! Our friends Craig and Jenny brought this guy:
back with them from Germany! He's so cute and soft!
We also cleaned out a spare room, (it's been both an office and guest room since we've lived here, so I don't know which to call it), for the nursery.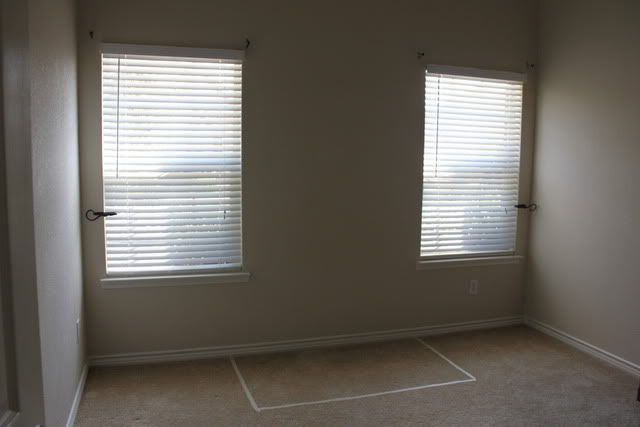 It has since had a few things added to it, but you'll have to wait to see all of that. ;) Oh, and the tape on the floor is to mark where the crib is going. I was trying to make sure all of the furniture I had picked out was going to work before I ordered it/moved it into the room.
And finally, here's a picture of me 21 weeks pregnant.
I'm not a fan of taking these pictures, I always feel silly taking them.
I bought this shirt at JCrew outlet this summer and I'm pretty sure it's turned into my absolute favorite thing to wear lately. It's just so comfortable!!! I gathered it up and tucked it into the other side of my leggings so that you could see my belly, but without that it hangs really large. I wish I had shirts like it for every day of the week. ;)
I do think it's about time to do some shopping. My wardrobe has become quite limited in the past few weeks. I wear lots of dresses and tights normally, and the dresses would be great, but I need to find some new tights. The ones I have are just regular sized ones from Target and they were great until last week the wide band on the top of them really started to annoy me. I think this weekend will probably be spent searching for some new tights.
I think that pretty much brings you up to speed! For those who haven't already seen it on Facebook, we'll share the name soon, (probably tomorrow if I get the post written up).
Jennifer