Like any true child of the 80's I grew up watching The Muppets. When I was probably preschool/kindergarten age I remember watching Muppet Babies every afternoon...
I've seen several of the old Muppets movies, my all-time favorite being The Muppet Christmas Carol...
I've seen the Muppet Vision 3-D show at Disney World...
Suffice to say, I think I'm pretty well-versed on Muppets, and was pretty excited when I saw the previews for the NEW Muppet movie.
I think it looks adorable, and it makes me a little nostalgic for all the Muppets movies I haven't seen in AGES. I'm thinking husband and I may have to hit up the theater soon to see this one.
Like all big movies that come out around the holidays, I've seen lots of promo Muppet-themed items come out lately. I've got to say the ones I was most excited about though were OPI's new Muppet themed nail polish collection. Have you seen these??
They were pictured in the ULTA ad in the newspaper a few weeks ago and I fell in love with all the sparkles! My husband likes to tease me that I'm like a fish, I get distracted by anything shiny/glittery. ;) So, of course I had to head in to check them out!
I ended up just getting Gettin' Miss Piggy With It, (the first one on the left in the middle row). It's basically little red glitter with big pieces of silver and red glitter in it too. Beautiful!
I'm not usually much of a red person, but I thought it looked so festive for the holidays. Incidentally I also wore it last Friday to cheer on the Razorbacks, something I don't usually participate in, but our beloved Longhorns aren't doing so hot this year. I was really bummed the Hogs couldn't pull out a win over LSU.
Speaking of Razorback colors, I made a Christmas wreath for one of husband's co-workers who just so happens to be from Northwest Arkansas and loves the Hogs and wanted a red and white wreath. Here's what I came up with: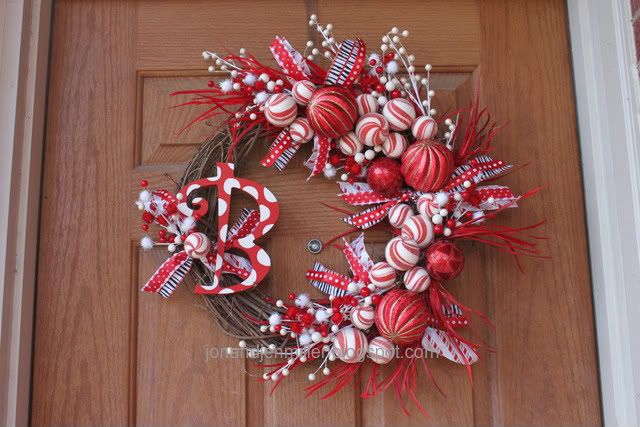 Of course after I took this picture I noticed a big bare spot on the right side. Isn't it funny how you can look at something right in front of you and not see anything wrong with it, but as soon as you take a picture it's incredibly obvious? I fixed the bare spot immediately, but then forgot to take a picture of the finished product. Go figure! ;)
Have any of you seen the new Muppet movie? Please tell me it's as cute as it looks!
Jennifer