I was looking through the photos on the computer yesterday and realized that I never posted pictures from a Rangers game we went to back in September. And since the Rangers are
this
close to winning their first World Series title, I thought it would be an appropriate time to post them!
These were all taken back on September 13th when the Rangers played the Indians, (and won, of course ;) ). We REALLY wanted to go to a World Series game last weekend, but when I looked up tickets the cheapest I could find was for $350 each. For standing room only. I don't know about you, but this pregnant lady can't be standing/jumping around for 4+ hours straight no matter how much I love the Rangers. To sit in the section we normally sit in would have been over $500 a ticket. Not exactly the best way to spend a grand when you've got a baby on the way. So we had to settle for rooting for them from home. Maybe next year. ;)
Anyway, back to pictures!
Us in our Rangers gear! You can so tell this was a regular season game on a hot Tuesday night in September, look at all those empty seats behind us! They did fill in a little within a few minutes of this picture though.
I may be a little partial but I think the Rangers Ballpark in Arlington is beautiful! Don't let the clouds fool you though, it was 105 that night! We had been saving these tickets all summer holding out for cooler weather. The week before it had been absolutely gorgeous and in the 80's and somehow that day it got back up to 107! Naturally two days later it was back down in the 80's. Crazy Texas weather. ;)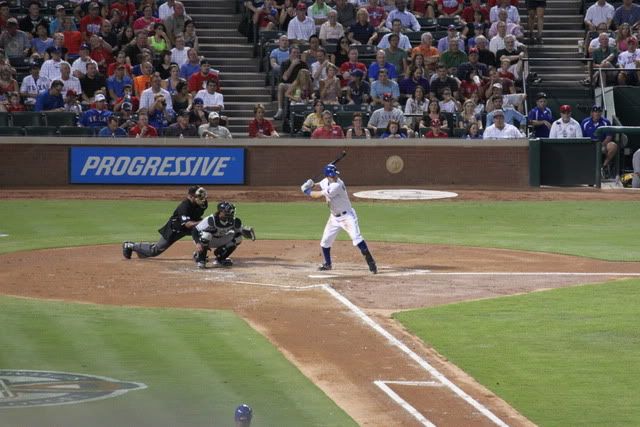 Ian Kinsler at bat. I just like that he, (and David Murphy), wear the cropped baseball pants with the tall socks. It just looks more like classic baseball to me and I like it. Leave it to me to pick sports favorites based on clothes. ha!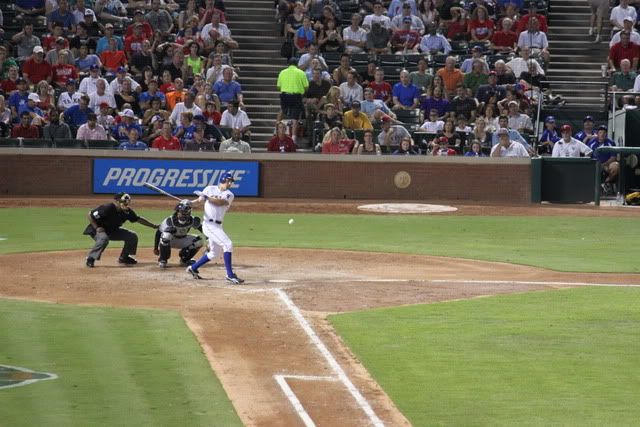 Speaking of David Murphy... I like this picture just because I finally got a shot where you can see the ball! I spent like an hour trying to take a picture of someone actually hitting the ball, but dang that thing's fast! This was as close and clear as I could get!
The beast that is Mike Napoli. Seriously this guy's headed for World Series MVP. Don't believe me, watch his performance in the second half of game 5 and see if you don't agree! He's awesome!
When Texas scores three things happen simultaneously:
#1 These little chickadees with the Texas flags run around... (They were super busy this night, I think there were 6? home runs)...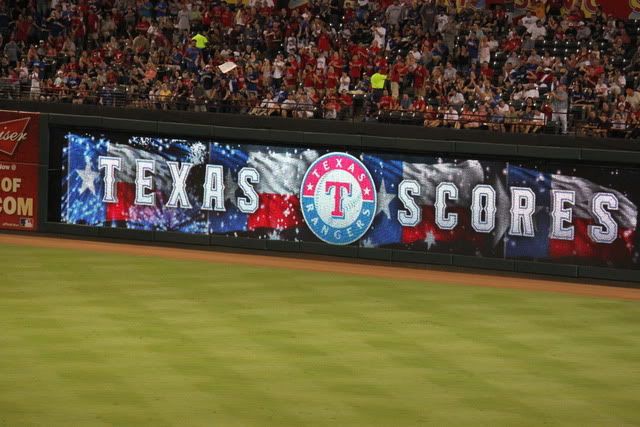 #2 The screens all look like this...
and...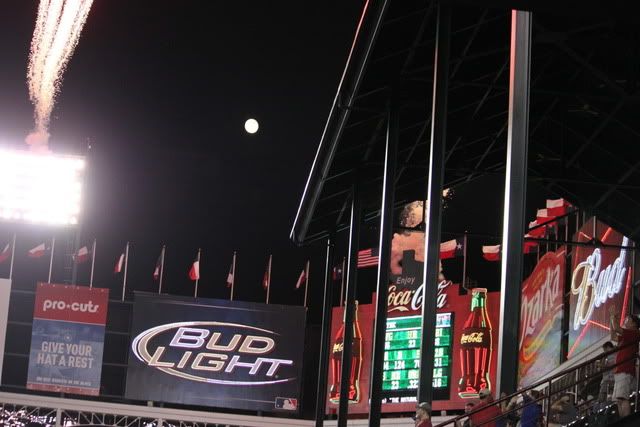 #3 FIREWORKS! :)
Love it! There's seriously nothing like a good baseball game live.
Here's to a big WIN tonight!!!
Jennifer