I am currently 28 weeks pregnant which places me in the 3rd trimester.
CRAZY!
By the way, what is the deal with the differing opinions on when the 3rd trimester starts? I've read everything from 25 to 28 weeks, so I just decided to go with the latest one so I wouldn't feel like I was cheating. ;)
I feel like I'm constantly running into things belly first. I'm not used to my belly sticking out so far, and it's kind of an odd parallax which throws off my depth perception. I feel like I should be able to fit/squeeze through tight spaces and I just can't. We have double doors into the closet and master bathroom in our bedroom, and usually I just open one and have no problem coming and going. In the past two weeks I've learned that I now need to open both doors because I'm not squeezing through one too easily anymore. ;)
I'm afraid Henry is quite the feisty little fella, (can't imagine where in the world he got that from, ha!). He gets very defensive if I rest anything on my belly... my hands, my phone, a book, husband's hands, and will literally kick whatever it is OFF my belly. The other day I had on some non-maternity tights that I just rolled below my belly, and they were starting to annoy me so I pulled them up for a few minutes where the waist band was right across my belly button, and he went BALLISTIC. It was like he was punching/kicking with both hands and feet all at the same time, all right at the waist band. I rolled the waist band back down and he was fine. Apparently little man has a little bit of a temper.
I've gained a grand total of 11 pounds so far, which I have to admit seems kind of low to me. Given how easily I can gain weight while not pregnant, I was really scared I was going to pack on the pounds while pregnant. I think the lower weight gain has to do with the fact that I'm still not very hungry most of the time, anything that's really greasy or overly salty still makes me sick, and I don't feel like I can eat as much as I used to be able to pre-pregnancy when there wasn't a now 2+ pound baby pushing on my stomach. However, when I do get hungry I must have food pronto. I've gone from someone who rarely ate breakfast, to it being my favorite meal of the day. We've never had so much breakfast food in our house in the 5 years we've been married as we do lately. My breakfast loving husband is in heaven. ;)
My belly button is still an innie, but it feels like it is stretched to the max. I think one of my more common complaints in the past couple of weeks is that my belly button hurts. haha. When I had my
laparoscopy
last year the doctor made one incision in my belly button and two lower on my abdomen. Since the incision healed I've never really been able to see the scar that's inside my belly button, but it's very easy to see now. It looks kind of odd.
I do not have any new stretch marks as of yet, but I feel they're coming very soon. I say new because I do have a few on my hips and right around my belly button from puberty. My skin on my belly all looks really thin now though and I can just feel the stretch marks coming soon.
We are going to be using our current tv stand as Henry's dresser,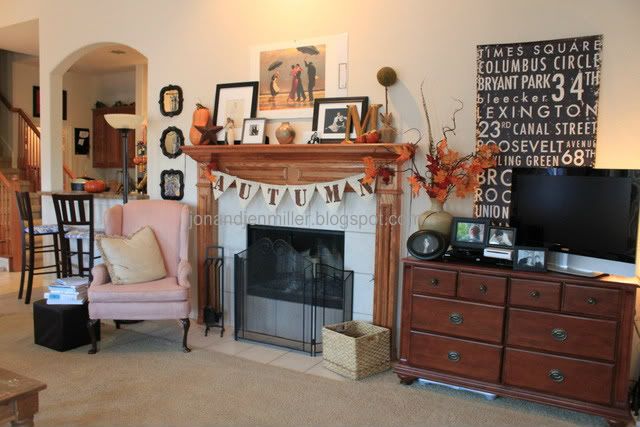 Best picture I could find of the tv stand/dresser now in the nursery, this picture is from last fall. I feel like our living room looks absolutely nothing like this now, I really need to take some more current pictures!
so we were on the lookout for a new tv stand to replace it for a couple of months now. I finally
found one at Pottery Barn
that I really liked, but wasn't really thrilled with the price.
Pottery Barn Leena Media Console
Thankfully a couple of weeks ago they put it on sale! The sale combined with a 20% off coupon I had and free shipping made it a few hundred dollars cheaper, and less expensive than anything we'd been able to find locally. It's being delivered today and I'm so excited! If I ever get around to finish decorating our Christmas tree I'll try to remember to take some pictures of the living room for y'all.
We moved the former tv stand dresser into Henry's room last night and I couldn't believe how much more finished it made the room to feel just to have one piece of furniture added to it. Now we have all the furniture in place for his room, I'm working on his bedskirt currently, and I've started ordering little decorative stuff here and there. My friend Renee is working on a quilt for him, and it's soo incredibly awesome I can't take it! She is such a talented quilt maker and makes
the most
gorgeous
quilts. You can see some of her projects at her quilting website
here
.
I'm so happy with how well the nursery is all coming together!!! I can't wait to share it with y'all, but we'll probably wait until everything is all finished, right now it looks kind of crazy.
On Monday we
attempted
to take some pictures of ourselves for Christmas cards. I say attempted because it did not go quite as well as I had hoped. I had originally planned for our friend
Allison
to take some pictures for us, (you can see a couple she took of us last year in
this post
), but I couldn't decide if I wanted to have them taken in November and use them for Christmas cards or just wait until January and have maternity pictures taken when my belly was a little bigger.
Well, I waited too long to decide and suddenly it was time to order Christmas cards and we still hadn't had any professionally done. I thought maybe with my camera, my new remote for the camera, and a tripod we might be able to get some good shots, but I was obviously over-estimating my picture-taking abilities! ha! I'll share some of the Christmas card reject photos with y'all later this week and you can see what I'm talking about. For now, here's one of the belly...
I'm not a fan of how my shirt looks in this picture, i.e. like it's stretched to the max, (which it basically is). So it didn't make the cut for the cards.
I think that's about all to report for the bump update. I had a doctor's appointment yesterday and Henry was measuring right on track with a heartbeat of 150 beats per minute. From now on I have to see the doctor every 2 weeks! This week we also met his pediatrician, (loved her!), and toured the hospital where I'm going to give birth. I can't believe that we're close enough to be doing all of that! We're also registered for tons of childbirth classes in January and pre-registered for hospital admission. :)
I hope you all had a GREAT Thanksgiving last week, can you believe tomorrow is December?! I just know the next month is going to fly by!
Jennifer