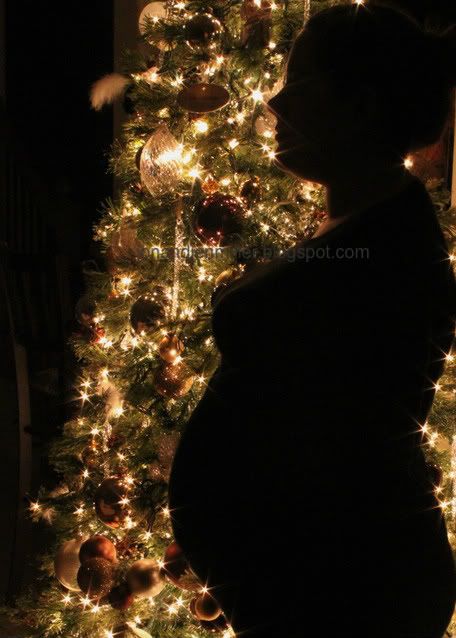 Today I am 32 weeks pregnant with our little Henry. This picture is actually from last week but I'm too lazy to take a new one today, so it'll have to do. ;) Also, this is about the only picture I have of our Christmas decor this year. I had planned to leave it up for a little while longer, but since I never actually finished putting all the decorations out, I'm kind of in a hurry to get them packed away.
I'm pretty sure the little guy has been growing up a storm lately. I feel like my belly looks bigger every single day. My skin also feels stretched to the max, I hate to think what it's going to look/feel like in 8 weeks or so. There's one spot to the left of my belly button where the skin is so stretched it feels bruised and hurts to touch it. I'm just waiting for my belly to break out in a roadmap of stretch marks, I just know they're coming soon.
In addition to growing, Henry likes to spend his days, (and nights!), moving almost constantly. He moves so much it makes me nauseous sometimes. I've never really gotten motion sickness from riding boats, planes, trains, automobiles, or roller coasters, but I feel like that's what's going on. He moves around so much it makes my stomach feel like it's doing flips. It's worse if I'm hungry, I guess because he has more room to move??
I still don't have much appetite, (which unfortunately has not stopped me from scarfing down lots of mint M&Ms and Dove dark chocolates this week), and really don't have cravings either. But this morning I woke up wanting a turkey burger from Mooyah and it is all. I. can. think. about. I had planned on making baked chicken, wild rice pilaf, steamed broccoli, and cooked carrots for dinner, but I think that plan is about to fly out the window.
My parents, grandma, and older brother came over for Christmas Eve and a Christmas day last weekend. At the time I felt like I was doing a really good job of taking it pretty easy. Ok, honestly I felt like I was being a little lazy by taking frequent breaks on the couch, letting my mom do lots of work on dinner, and husband doing all the dishes, but I still think I overdid it somehow. I've been having lots of weird pains and braxton hicks contractions since Monday night which have pretty much forced me to spend most of the last couple of days lying down and drinking tons of water. I'm not so great at the whole lying down and doing nothing thing, I'm about to go crazy.
Speaking of Christmas, I'm pretty sure Henry racked up. ;) I honestly couldn't think of anything I wanted for Christmas, so I kept telling people just to get stuff for Henry instead. I should get all of his stuff out and take a picture, it's all just too cute.
I'm getting so excited for him to be born! It just dawned on me Monday that there are less than two months until his due date. Very exciting stuff! We're just so ready to meet him!
On the nursery front, the fabric for the nursery curtains came in the mail last week and I am in love! There were a couple more things I wanted to order for the nursery, but it's looking pretty good with just the stuff we have right now, so I may scale back a little bit. ;) I need to get the sewing machine out and work on his bedskirt, (which is SO close to being done I really have no excuse for it not being finished), and get the curtains done, (which shouldn't take any time at all really).
That's about all for now. I have a doctor's appointment tomorrow, so we should find out a little bit more about his stats and such. I think after this week I only have one more appointment before I start going every week, which means we're getting so much closer to his due date! :)
Jennifer