Just some random pictures/goings on of the last week or so...
We've been working hard to try and get things checked off our baby to-do list as my due date draws ever closer. In the past week we've: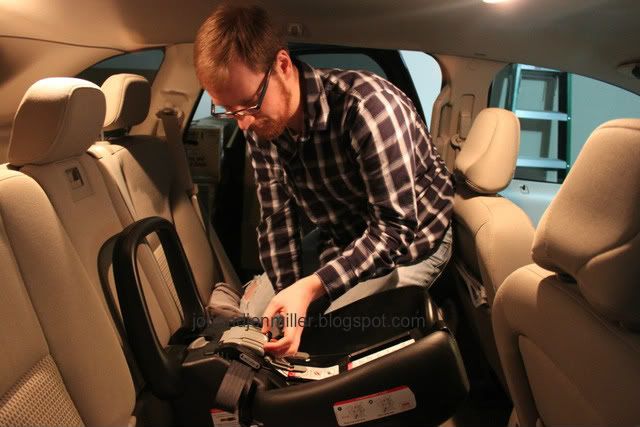 assembled the pack and play in our bedroom, and now have to deal with this:
Or this:
when we come in the bedroom sometimes. We've discovered if we put something else in the pack and play she won't get in it, so Curious George has been camping out in it lately. Poor George, he's basically been our baby model for the past few months,
he's modeled cloth diapers and homemade baby bibs
, and now he has to stay in the pack and play. ;) ha!
We took a TON of classes at the hospital!
Seriously, we took childbirth classes, breastfeeding, baby care, infant safety and CPR, and a car seat class. It may seem like a little much, but I feel so much better about bringing Henry home now. A lot of the classes consisted of things that we already knew, but we really did learn a lot at each one of them. We also realized that between the two of us, we might actually be ok. ;)
I finished sewing the curtains for Henry's room! I'm so excited because they took a lot less time to do than I thought they would, even with my hugely pregnant self having to sit on the floor to pin 12 yards of fabric. It was my first time making lined curtain panels and I was so happy that they actually turned out well. Husband has been practicing using my big camera so that he'll be more comfortable using it when Henry arrives, (he's getting a lot better!), so I found lots of pictures like the following one on my camera when I uploaded pictures.
We got one of the curtain panels hung in the nursery, but will have to wait until this weekend to get the other one up because we had to go in search of a matching curtain rod. The Target we bought the first rod at only had one in stock, so I had to go to another Target to find another rod. I can't wait to see what the room looks like with both panels up!
After that we just have to wait for a couple of prints I ordered off
etsy
to arrive, and I want to paint a large canvas for above the crib and the nursery will be done!
Speaking of the nursery, I've been on the hunt for an orange lamp to go in the nursery for months now. Who would have thought it would be so difficult to find an orange lamp? I finally gave up finding one in person and ordered this one: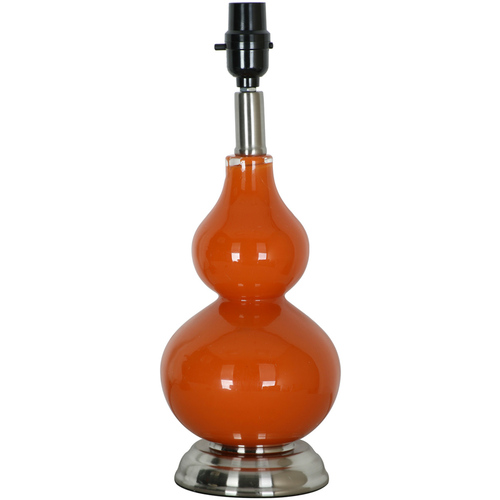 from Lowes.com thinking that it would be just about perfect. Unfortunately, I was seriously disappointed when this is what we got:
it is not orange at all. I was so upset! The dresser that the lamp is sitting on is a cherry stain, (you can see it better in
this post
), and the lamp was almost the exact same color as the dresser. It's a horrible dark reddish brown. I guess it's really not an awful color, unless you were hoping for an actual orange lamp. Needless to say it will be returned.
With the disappointment of the Lowe's lamp, I pretty much gave up on finding an orange lamp. I've looked at every store I can think of for months and hadn't found anything like what I had in my mind. Also, I didn't think about the effect of the orange lamp sitting on the cherry dresser until the failed Lowe's lamp attempt, but I decided that even the orange I have in my mind might not be the absolute best. wah, wah...
The next night I found this combo at Target:
It wasn't at all what I was looking for, but I really liked it! Best of all the base was on clearance for $12.48 and the shade was on sale! I decided to give it a go and see what it looked like, (worst case scenario, it would have to be returned which is no big deal since I go to Target about 20 times a week). The verdict, we really like it! I tried to take a picture of it with one of the finished curtain panels in the background, but it didn't turn out as well as I like and today it's too dark and dreary to get a good picture, so we'll just have to wait.
On another front, in the past week I think I've eaten black bean nachos about 5 times. No lie. I am hungry all. the. time. I'm very thankful that I've not been hungry like this the entire pregnancy! I have to eat every few hours, but can only eat about a 1/3 of a serving of food each time because my belly is out of room. This means that I eat lots and lots of snacks and very few meals. I've been trying to eat foods that will fill me up, are quick to fix, but still have food value, (i.e. not eating cookies, pudding, pretzels, etc. all the time). Nachos are one of my solutions to this.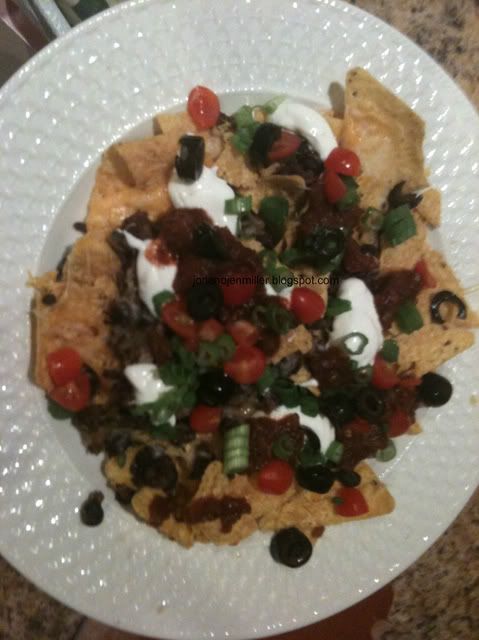 I take a handful of tortilla chips, a couple ounces of reduced fat cheese, and 1/4 cup of black beans and stick them on a plate in the microwave for a minute until all the cheese is melted. When it comes out I put less than a tablespoon of light sour cream, salsa, a slice of tomato or a few grape tomatoes, and one sliced green onion on top. And then I scarf it all down in about 10 seconds, because it's delish.
But, the most exciting thing that happened in the past week...
I became an aunt!
This little beautiful bundle of joy is Miss Adelaide Elisabeth, (don't you just LOVE her name?!!), and she was born to my youngest brother and his wife last Friday. We're so unbelivably excited for them!! I'm so glad Henry has a cousin!!! We actually found out that Haley was pregnant the exact same day that I found out I was pregnant with Henry, so it's been really fun to be able to talk pregnant talk with them since June! :) I absolutely cannot wait to meet her; I'm just a tad upset she waited to make her appearance until I was too far along in my pregnancy to travel! ha!
That's pretty much all we've been up to! Have y'all done anything fun lately?
Jennifer