I've mentioned several times the past few months about our plan to use cloth diapers on Henry starting a few weeks after he arrives. We're planning to use the disposables we have in the house for the first couple of weeks until we get the hang of having a newborn, and then switch to cloth.
I've done probably
way
too much
research on everything cloth diaper related. That's my style, I like to be over-prepared. ;) I decided at one point though, that we were just going to have to do some trial and error once Henry is here, and in the mean time were just going to have to bite the bullet and buy a few different types to try out and see which ones work the best for him. After a few months we could reassess what works best for him and add to our stash as needed.
So here is our current stash of fluff: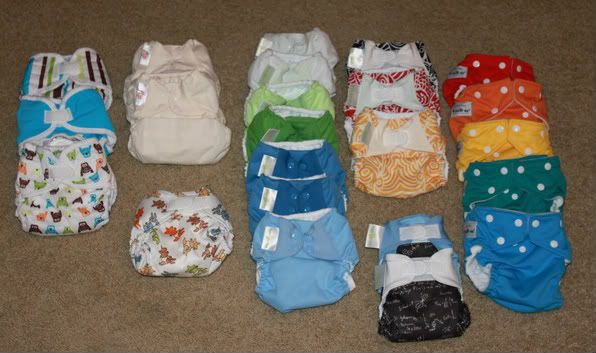 We have:
-3
Thirsties Duos size 1
(in colors cool stripes, ocean blue and hoot), that I got during a buy 2 get 1 sale at a
the Nappy Shoppe in Plano
-
2 Flip covers with 3 organic inserts
, (in color Noodle), that I got during a buy 1 get one sale from
Cotton Babies
-1 Rumparooz One size diaper (we love the kangaroo pattern!), bought at a
the Nappy Shoppe in Plano
-7
BumGenius 4.0 pocket diapers
, (in colors Sweet, Grasshopper, Ribbit, Moonbeam, and Twilight), 1 from Amazon and the others during a buy 5 get 1 sale from Cotton Babies
-
3 BumGenius 4.0 Artist Series pocket diapers
, (in colors Eiffel Tower, Concrete Jungle, and Free Spirit), from a buy 2 get 1 sale from Cotton Babies
-
2 BumGenius newborn diapers
, (in colors Twilight and Albert) from Cotton Babies
-
5 FuzziBunz One Size diapers
, (in colors watermelon, kumquat, mac and cheese, spearmint, and big sky), that I bought during a sale on Zulily
I'm thinking we'll need at least a few more, but we're going to try these out and see what works first. Before actual use and based on looks alone, the BumGenius 4.0s are my favorite and I think the FuzziBunz are incredibly frustrating with their button elastic on the legs and waist, but I'm interested to see how my opinions of them all change after we start using them.
Originally I had planned to just use disposable baby wipes with the cloth diapers, (honestly, nothing else ever even occurred to me, I've never seen anyone use anything but disposable wipes). But over months of reading blog posts and forums about cloth diapers, I kept reading about how easy it was to just use cloth wipes too and toss them in the wash with the diapers.
Even after reading about cloth wipes for months I continued to just disregard or skip over everything about them. It just was not something that I really wanted to think about, I was putting all my energy into building the perfect stash of cloth diapers. ;)
Then we took a childbirth class at the hospital where I'm going to deliver, and they mentioned something about not using disposable wipes the first few weeks of the baby's life anyway. What?! I'd never heard/read this anywhere! So that started me thinking for the first time about maybe using the cloth wipes... but I still wasn't 100% sold on the idea.
Enter week 40 of my pregnancy.
This past week I've been bored out of my mind and have been constantly looking for new projects to work on to keep my mind off the fact that I have not gone into labor yet. I made another batch of appliqued burp cloths, worked on some blankets, filled our freezer to capacity, (I'll post about that soon), and then ran out of things to do. I thought about making new curtains and pillows for the guest bedroom, but my husband nixed that idea real quick. Apparently he thinks that 40 weeks pregnant is not the ideal time to redecorate the guest bedroom. ;)
I checked out the
JoAnn
ad in this week's paper for some inspiration, and they had solid flannel on sale for $2/yard and printed flannel for $3.50/yd. The only thing I could think to make out of flannel was cloth baby wipes! I thought it sounded like an easy enough project that it wouldn't stress me out and I wouldn't have to be on the floor pinning large pieces of fabric or leaned over a table too long cutting fabric, and cheap enough that I wouldn't feel bad if it was a total failure. So, I bought 6 yards of fabric, (3 prints and 3 corresponding solids), and got to work.
Now, I'm going to attempt to do a mini tutorial of sorts on this. For the record this is WAY out of my comfort zone because I still feel like such a novice in the sewing department. However, when I went to look at tutorials for making cloth wipes, I thought that all of the ones I found kind of made a lot of assumptions about their readers' sewing abilities. So I'm going to attempt to write this up with every single step laid out so that anyone who doesn't sew on a regular basis can follow along.
Also so that if I want to make some more in a few months, I can look back at this and remember exactly how I did it. I tend to forget things easily! ;)
Just be warned if you sew on a regular basis, the following may seem a little like freshman orientation all over again.
Back to business!
First off, I washed and ironed all the flannel, then used an 8 1/2" x 8 1/2" quilters square template and a rotary cutter, and mat to cut the fabric into squares.
Ideally, I would have used a 7"x7" square template, because that's the size of the wipes that come out of the box, but oh well.
For the record, this is WAY easier than trying to measure everything out perfectly and cutting with scissors. I knew that I would have a little extra fabric on the sides and the top and bottom, so it didn't matter if I didn't measure everything out perfectly, I could just kind of place the template semi-straight and get to cutting without having to think about it too much. Thanks to the template I got 16 perfect squares out of each yard of fabric. Without the template and rotary cutter I honestly can't cut anything in a straight line to save my life.
After I got all my squares cut, I pinned one square of printed flannel to one square of solid flannel and got to sewing.
*The first few I made I tried finishing out really nicely... I pinned the right sides of the fabric together, sewed around the square leaving about an inch unsewn, turned the squares right side out, ironed, and sewed around the outer edges again, sewing the inch hole shut and putting a nice seam around the edges.
I do not recommend this method. I decided real quick that was entirely too much work to make baby wipes and abandoned this way after about 6 squares. I didn't like the extra fabric around the edges, I thought it would be a more efficient wipe if it were the same thickness throughout.*
The method I landed on was just to pin the wrong sides of the flannel together, (where the pretty/soft side faced out), and use a zigzag stitch to sew all the way around the square.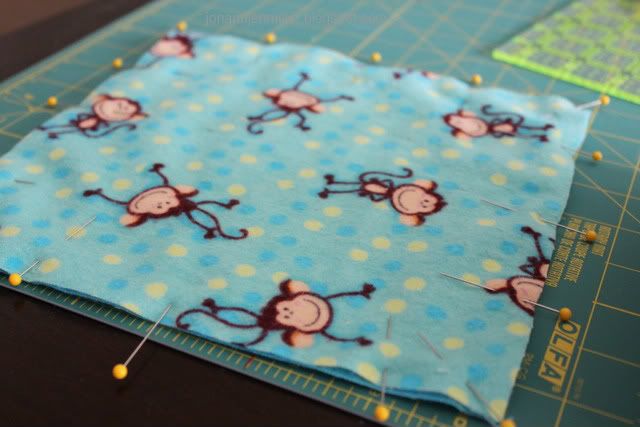 My two fabric squares pinned together with the pretty/soft sides facing out.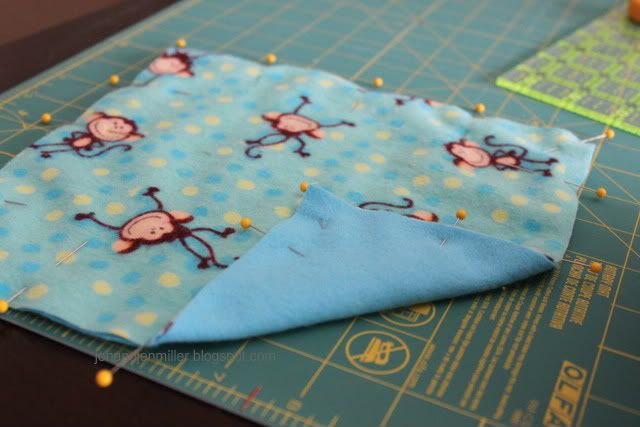 Here you can see the solid fabric pinned to the monkey print fabric. It's easy to tell which side of the printed fabric you want to face out, the solid is a little harder, make sure you use the softer side, not the rougher underside.
To use the zigzag stitch to sew around the edges, set your machine up to do the zigzag stitch, and line up the edge of your fabric squares with the needle on your machine. On my sewing machine, (and I think every other sewing machine I've ever used), there is a nice red line on the center of the foot that marks right where the needle will hit, just line up your fabric edge with that red line.
And then start sewing-keeping that red line and the edge of your fabric lined up at all times.
When you get to a corner just stop the machine with the needle still down in the fabric, raise the foot, rotate the fabric 90 degrees, put the foot back down, and keep going. If that makes no sense at all to you let me know. I took pictures of these steps too but since this post was already so picture heavy I left them out, but I can easily add them in to help clarify if need be! ;)
Sew all the way around the edges of your square. When you catch up to where you started stitching, overlap the stitches a little bit, and then backstitch a couple of stitches to keep everything in place.
The edges of your wipes should look something like this:
BTW, this is about the 30th wipe I'd done, my first looks almost nothing like this, so don't be discouraged if yours doesn't either. ;) These are great to practice zigzag stitching on, by the time you make a batch you'll be ready to do appliques like a pro!
It definitely took some practice to get right, and these are no where near the prettiest things I've ever sewn, (and that says
A LOT
because I've only been sewing for about a year, so most things I do don't look great), but honestly, they are
literally going to be used to wipe a baby's bottom
, how perfect do they really have to be?
This project went pretty quickly, but it was also easy to do for short periods of time all throughout the week without trying to remember what I was doing when I stopped the time before. I have one set of 16 left to do, (they're going to be green and white stripe on one side and solid green on the other), and then I'll have a total of 48 cloth wipes for about $15 and a few hours of sewing.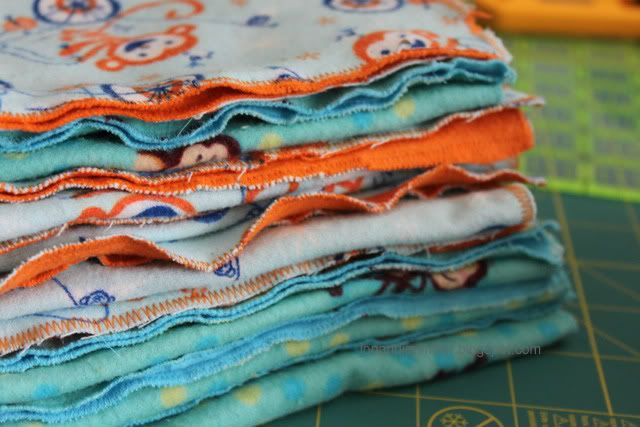 Like the cloth diapers, we'll have to wait to review these in a few months to see how they work/how we like them. I can say this much for sure though, little monkeys on bicycles are way cuter than just the plain white disposable wipes. ;)
Besides, I can always use them for rags around the house if all else fails.
Jennifer
P.S. Ugh with the giant pictures again, really photobucket?!