**EDIT June 29, 2012 - This is an old post that I am linking to
Kelly's Korner
for Show Us Your Life Fridays! This is our sweet baby boy's nursery as it was before he was born, (he's 4 months old now). Shortly after he was born, we ended up moving his crib into our room, and now we're packing up our house to move, so these are the only pictures I'll have of the nursery all put together. I loved it so, so much, and I'm excited that soon I'll get to recreate it in a new house! Thanks for stopping by!! ;) **
I said last week I was going to take some new pictures of Henry's nursery because the ones I took a couple of weeks ago are really dark and there are a couple of things out of place. But, with even more cloudy days lately, I just give up and these will have to do! ;)
We didn't really have a "theme" when planning his nursery, we just picked lots of things that we really liked, and that we hoped would grow with him past the bitty baby stage. Also, because we rent our house, we were a little limited on big changes, because we can't paint. It's a little different, but so are we!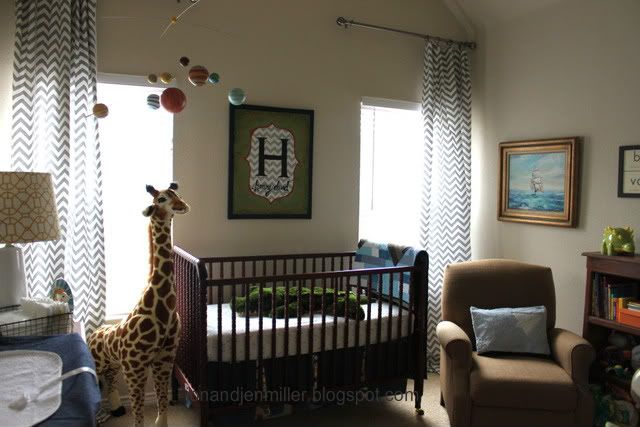 This is the view from when you walk in the door to his room. See what I mean about the dark pictures? When I started thinking about what I wanted his room to be like I picked navy, grey, and orange as colors to start from. Eventually an olive green and dark yellow kind of snuck in there too.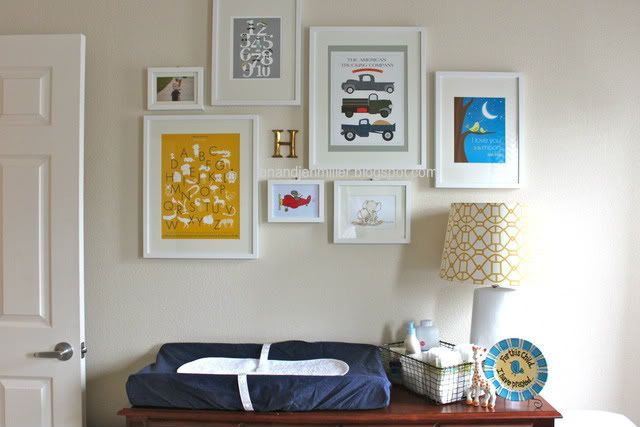 This is the wall to the left of the door into the room. For his dresser we used one we already had that was previously our tv stand in the living room. Most of the artwork above the dresser is from Etsy and framed in IKEA's Ribba frames.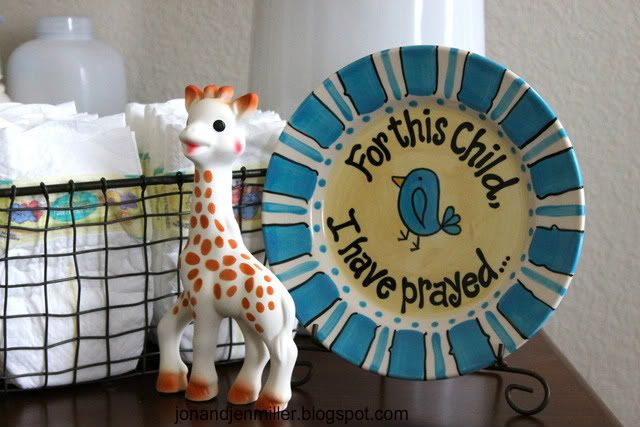 A basket for diapers, wipes, and other diaper changing necessities, (we do plan on using cloth diapers, but we have a stash of disposables for the first few weeks while we're still getting used to having a newborn in the house), lamp and shade from Target, Sophie the giraffe, and a plate that could not have truer words on it.
The mobile in the corner above the giraffe is a solar system mobile from Pottery Barn Kids. The mobile was actually one of the first things that we bought when we found out we were having a boy. We're kind of nerdy like that. ;) The giraffe is one of my absolute favorite things ever. Her name is Georgina and she's almost 5 feet tall, and while she serves no actual purpose, (except looking great), I love her. Somehow I didn't take any close up pictures of the crib, but there are actually little grey giraffes on the crib sheets. Apparently we like giraffes?
See, I somehow skipped over the crib area. We picked the crib because I've always loved Jenny Lind style cribs, and we knew that we would be using the bookcase and dresser we already had in the room, so that dictated the color/finish we ordered the crib in. We decided not to go with a crib bumper for safety reasons, (we'll look into one of the breathable bumpers if he starts getting body parts stuck in the crib slats, but until then we'll go without completely), so it doesn't look as cute as the cribs with the full bedding sets, but oh well.
The chevron curtains are another one of my favorites in the room. Originally I had planned to do curtains that were really wide grey and white horizontal stripes, but I could not find fabric like I wanted ANYWHERE. The closest I came was some special order fabric that was going to run me about $350 for just the fabric for the curtains, not to mention lining fabric and the fact that I would still have to sew them! Umm... no thank you! Husband actually picked the chevron fabric, (I had decided I was going to make my own striped fabric, at 35 weeks pregnant, thankfully he nixed that idea), and while I was a little worried about it looking too trendy originally, I really love it now that everything is finished.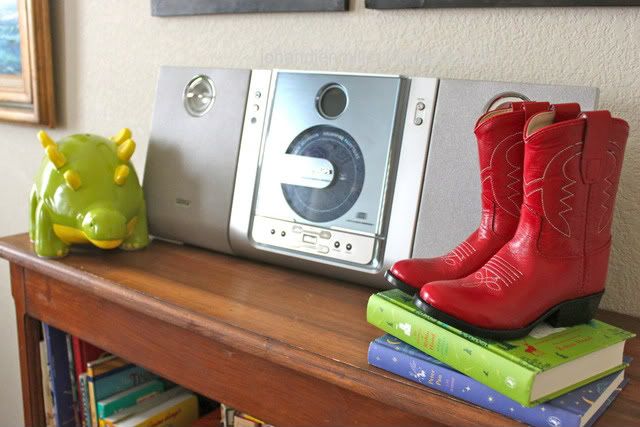 My Daddy made this bookcase when I was probably in 7th grade, and I stained it myself all those years ago! It's got a little wear on it in spaces because it's been in my room since I was 13, but I kind of like it looking a little beat up. I've known I wanted to use it in a nursery for years.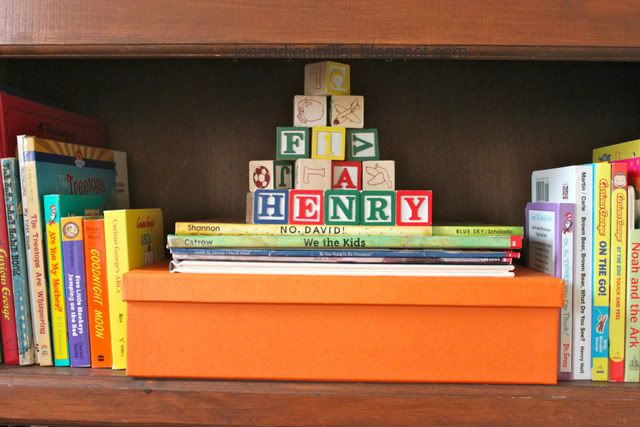 I was an early childhood education major for 3 years in college, so I have lots of childrens books, and we've gotten lots more as gifts for Henry. I really hope that he loves reading as much as I do! The orange box has all the instruction booklets for all his stuff and cards from our baby showers.
The last wall is between the closet door and the door into the room and is just big enough for his swing. The swing was a gift from husband's coworkers, and I think it looks so comfy! The sleep sheep is hanging out in it until Henry is here.
That's pretty much it! I moved around a couple of things after I took these pictures, but for the most part everything is the same as it was when I took these a couple of weeks ago. I am still looking for another navy basket for the middle shelf of the bookcase. I got the one we have at Target and just assumed I could go back and get another one. I've now been to four Targets and have yet to find another, so frustrating!
If anyone is interested in a more detailed post about where we got specific things in the room, I can certainly do that. I just didn't want to spend a couple hours doing links to everything if no one was interested. Basically I'm lazy. ;)
And now we wait...two days until my due date!
Jennifer